While stamped concrete costs more than asphalt or plain concrete, it is comparable to and frequently less expensive than natural stone, flagstone, brick, or precast pavers. The fundamental reason is that pouring concrete and applying a pattern is more cost-effective for contractors than hauling and placing individual paving units by hand. Bear in mind that the initial cost of a project is only a portion of the total cost of stamped concrete.
Why is stamped concrete so expensive?
Renting stamps, buying coloring, buying release, paying for extra waiting time, paying a washout charge, extra labor to stamp the concrete after it's finished, a second day to wash out the release, and finally applying the sealer all add up quickly. Increase in color price, equipment's maintenance, labor charges, and transportation charges are some factors that make stamped concrete so expensive.
Is stamped concrete cheaper than wood?
You can be charged anywhere from $1.75 to $5.50 per linear foot for the decking materials needed and between $4 and $8 per square foot for posts and joists materials. Stamped concrete cost anywhere from $12 to $18 per square foot on average.
The cost of hardwood flooring installation is between $6 and $12 per square foot. Wood flooring typically costs $3 to $7 per square foot in materials and $3 to $5 per square foot in labor. The cost of installing 1000 square feet of hardwood flooring ranges from $6,000 to $12,000.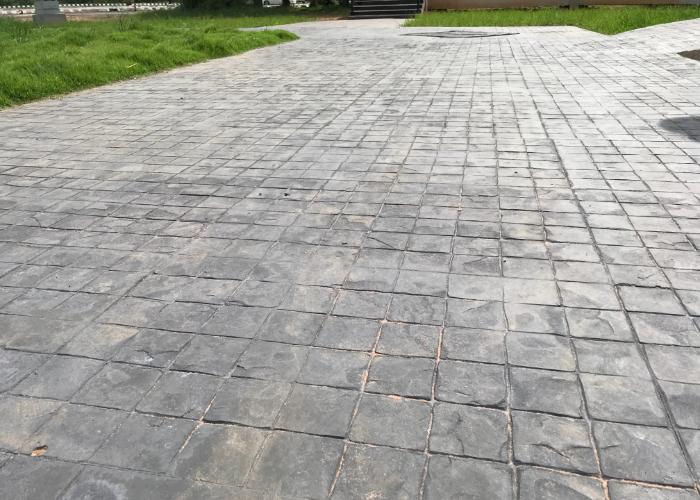 Stamped concrete: is it worth the money?
Yes, this decorative touch is usually worth it because it may be put to highly visible areas of a building's façade and does not necessitate the demolition of existing concrete slab work; instead, it can be applied directly on top. However, for people who are investing in properties for the long term — or permanently — it may be wise to use more expensive materials that will deliver higher value over time.
Many homeowners ask if investing in a stamped concrete patio or driveway is worthwhile. Yes, because it improves your home's curb appeal and aesthetic value, allowing you to get the most out of your investment. If you are a lover of aesthetics, you might find it appealing.
How long does stamped concrete last?
Stamped concrete will survive just as long as non-stamped, or ordinary, concrete if properly built and maintained—roughly 25 years. This is because the techniques for installing stamped concrete and regular concrete are nearly identical. 
Pros and Cons of stamped concrete
Installation is reasonably priced. Other paving solutions are more expensive than stamped concrete. Aesthetics with a Personal Touch, Examine the various styles of stamped concrete installation to see how you may personalize your patio or sidewalk.
Enjoy a seating area or walkway that resembles one of these popular choices:
Slate

Natural stone

Brick

Tile
Almost any shape and texture are possible with stamped concrete. All designs enjoy the inexpensive cost and long-lasting strength of concrete. Compared to stone, Tile, or Brick, concrete requires significantly less upkeep. While some cracking can develop over time, there isn't much you can do to keep your pathway in good shape year after year. Some stamped concrete elements are sealed, but after three to five years of use, they will need to be resealed.
The most prevalent problem with a concrete surface is cracking. While fissures in stamped concrete are less obvious than on a smooth surface, they are unavoidable. A concrete contractor may be required to patch your patio or pathway over time. While this is less of an issue than other hard surfaces, it is still something to consider when choosing concrete.
Another disadvantage of stamped concrete is its color. Although patching concrete is a cost-effective alternative, matching the original color of your walkway or patio can be difficult. Because the coloring materials in each layer of your outdoor concrete area merge, a patch may be unable to match the exact color of the original.
Cost of concrete per square foot
According to HomeAdvisor, a concrete slab is $4 to $8 per square foot, with every homeowner managing between $5.35 to $6.17 per sq. ft, or $113 to $126 per cubic yard for both materials and installation. Your final cost will depend on the slab's size, thickness, and if you have any special reinforcement such as wire mesh or rebar.
The cost of stamped concrete
The cost of basic stamped concrete is from $8 to $12 per square foot, but more elaborate projects might cost up to $18 per square foot. The cost of stamped concrete varies greatly based on the cost of materials and labor in your area, as well as the job's intricacy. The cheapest stamped concrete employs a single pattern and color, while the more expensive installations use multi-pattern designs with specific coloring effects like hand-applied stain highlights.

How does stamped concrete work?
Concrete that is patterned textured, or embossed to resemble brick, slate, flagstone, stone, Tile, wood, and other patterns and textures are known as stamped concrete. Patios, walkways, roads, pool decks, and interior flooring are prominent for stamped concrete. Stamped concrete's proficiency to simulate other building materials provides it a less costly choice to assign other credible materials like stone, slate, or Brick. Stamped concrete comprises stamped tiles that are piled on top of each other.
Stamped concrete is distinguished from other types of concrete by three procedures: adding an accent color, a base color, and the stamping of a pattern into the concrete. These three processes produce stamped concrete similar in color and shape to natural building materials. It's also more durable than paved stone while maintaining the same appearance.
According to Millionacres, Stamped concrete cost anywhere from $12 to $18 per square foot on average. Stamped concrete is somewhat expensive compared to wood and other materials, but it adds a decorative touch to visible parts of an exterior building, so it's worth money and adds value to your house.
Reach out to Chicago Stamped Concrete Pros when you require a quote for stamped concrete services for your home!